MIDI kit
How does it sound to have unique product photos on a stylish product overview that ensure more conversions and fewer returns? The MIDI kit helps with automated product photography and 360 degree product presentations of objects up to 40 kg. The turntable has a diameter of 75 cm and is remote controlled.
Use the MIDI kit to take product photos of medium-sized objects such as shoes, boots, hats, bags, cases, toys, home appliances and electronics. You can also set up a mannequin or torso for extra photo material of clothing and other clothing.
The MIDI kit comes with our Orbitvu Station software. This software controls the table and the camera and makes fully automatic 360 degree product presentations.
Product video
Watch the short video about the MIDI kit below. In this video functionalities of this machine are explained.
Voordelen van een MIDI kit
Rotatable platform with a diameter of 75 cm
Create a 360 degree product presentation
No post-processing of the photo required
Photos that are instantly uploadable
Ideal for shoes, bags, suitcases, toys and electronics
Good, unique product photos ensure a better conversion and fewer returns
Easy to operate
Rapid Return on Investment
Download brochure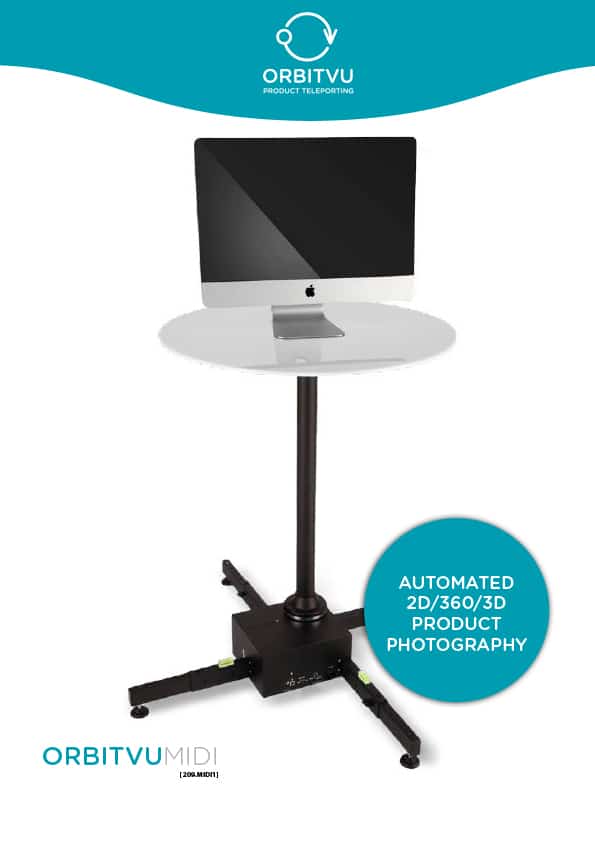 Specifications
| | |
| --- | --- |
| Table diameter | 75 cm |
| Max. central load | 40 kg / 10 kg column |
| Max. load for hanging configuration | 20 kg |
| 360° image output formats | HTML5 |
| Export 2D / 360 | JPG, PNG, TIFF, BMP |
| Trigger of camera shutter | USB |
| Compatible cameras | CANON DSLR with LiveView <More information> |
| Max. image resolution | Unlimited |
| Compatible operating systems | Mac OS: from 10.14, 10.15, Big Sur; WINDOWS 8 and 10 |
| Own product profiles | Yes |
| Positioning accuracy | Better than 3° |
| Dimensions (L x B x H) | 120 x 120 x 97 cm |
| External power supply | 110 - 230V AC |