MAXI kit
Do you want photos suitable for your website or print in seconds? With the MAXI kit you automatically create packshots and 360 degree spins.You can choose between a diameter of 120 or 180 cm turntable to suit your products. Both options have a load capacity of up to 250 kg.
With the MAXI kit you can quickly and easily take product photos of large products such as bicycles, people, suitcases, large toys, chairs and small cabinets. Household appliances and electronics also easily fit on the MAXI kit.
The MAXI kit comes with our Orbitvu Station software that controls the table and the camera. The software also can create fully automatic 360 degree product spins.
Advantages MAXI kit
Rotatable platform
Choose a diameter of 120 or 180 cm
Fully automatic 360 degree product presentations
Photos that are instantly uploadable for online and offline
Ideal for large products such as bicycles, chairs and suitcases
Good, unique product photos ensure more conversions and fewer returns
Easy to operate
Download brochure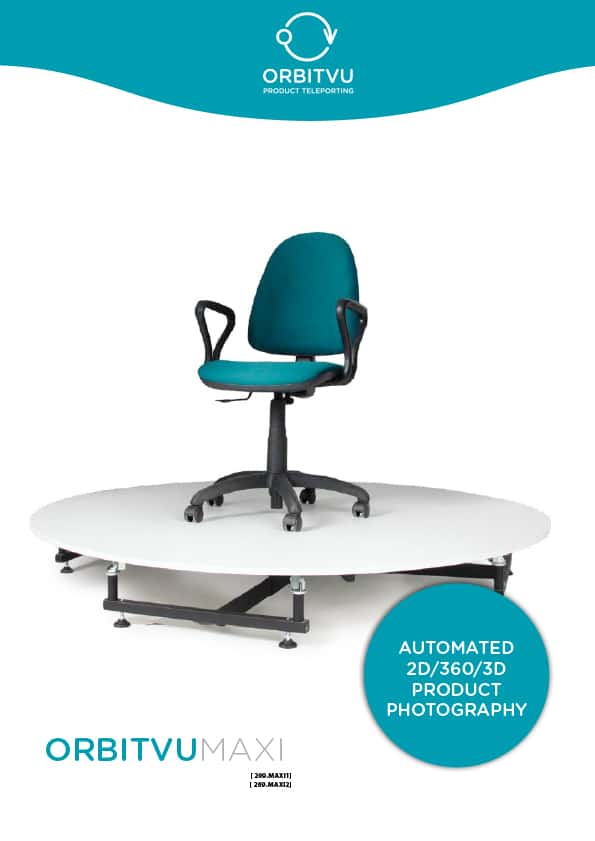 Specifications
| | |
| --- | --- |
| Table diameter | 120 or 180 cm |
| Max. central load | 250 kg |
| Max. load for hanging configuration | 61 kg |
| 360° image output formats | HTML5 |
| Export 2D / 360 | JPG, PNG, TIFF, BMP |
| Trigger of camera shutter | USB |
| Compatible cameras | CANON DSLR with LiveView <More information> |
| Max. image resolution | Unlimited |
| Compatible operating systems | Mac OS: 10.14, 10.15, Big Sur; WINDOWS 8 and 10 |
| Own product profiles | Yes |
| Positioning accuracy | better than 3° |
| Dimensions (L x B x H) | 180 x 180 x 22 cm |
| Operating temperature range | 10 - 40°C |
| External power supply | 110 - 230V AC |