Alphastudio XXL Pro, an all-round studio!
The Alphastudio XXL Pro has been specially developed to enable you to immediately isolate photographs of larger products. This all-in-one photo studio with unique automatic background removal can photograph products of 200 cm high and 100 cm wide. The load on the turntable is a maximum of 100 kg. The Alphastudio XXL Pro allows both static 2D photos, moving 360º presentations and videos, to be uploaded directly to YouTube. Products such as clothes on mannequins, skis, large household appliances, suitcases and electronics can be photographed in the Alphastudio XXL Pro.
Products in the Alphastudio XXL Pro are photographed instantly isolated. This is done by means of the Alpha channel technology, post processing is no longer necessary. The powerful infinitely adjustable and movable LED lighting panels ensure that you can quickly create professional images for your webshop or other application. The system is delivered including Orbitvu Station software. It controls both the studio and the camera and works smoothly on Windows or Mac.
Product video
View the short video about the Alphastudio XXL Pro. In this video we show you all funtionalities of the system.
All Alphastudio XXL models feature the award-winning Orbitvu 360 ° technology. The 360˚ spins are perfect for webshops and compatible with PC, tablet or mobile device. U can also use them directly for social media.
The system can be delivered with multiple cameras, so you can also shoot from multiple angles like top to bottom.
Whole mannequins, but also shoes can be easily and quickly be photographed. Place the shoe on top of the included 'Magic Table', this table is automatically removed by the software. Post-processing is no longer necessary. The product photos taken are automatically cropped and centered so that they can be used intantly, on- or offline.
By using the standard templates you can quickly and easily shoot high quality product photos and videos. This way you are assured of a constant output and quality.
Benefits of the XXL PRO
Instantly removes the background
Post-processing is not necessary
Every detail is perfectly illuminated due to the four powerful LED panels
Laser pointer to perfectly align products for 360° photos
The special software integrates seamlessly with the system
From stock to webshop within one and a half minutes
Up to 20 times faster than manual photography
Good, unique product photos provide more conversions and fewer returns
Easy to operate
Fast Return on Investment
Multifunctional studio voor photo and video
Download brochure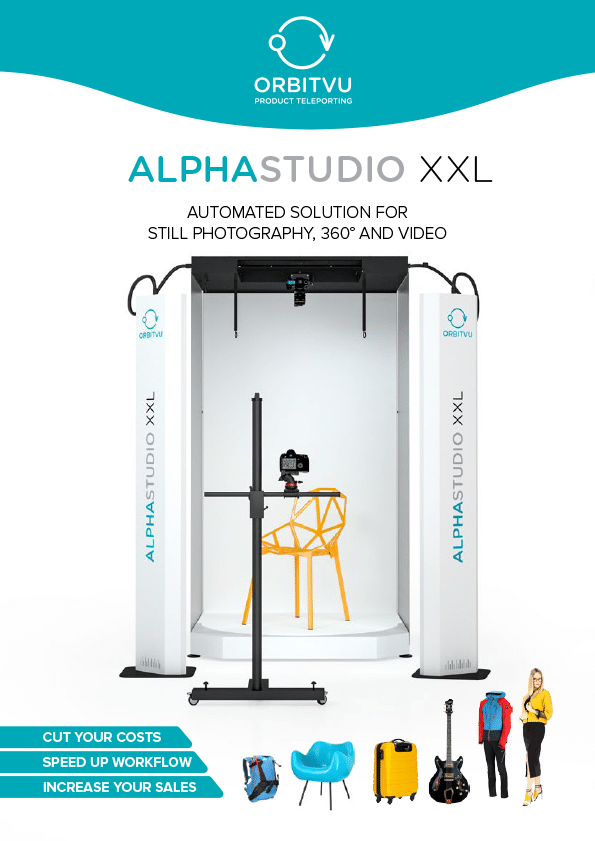 Specifications
| | |
| --- | --- |
| External dimensions | 200 x 139 x 273 cm (L x W x H) |
| Weight | 340 kg |
| Max. size of photographed object | 120 x 70 x 190 cm (L x W x H) |
| Max load | 100 kg |
| Frontlight | 2 panels 37 x 212 cm (95+ CRI) |
| Top lights | 2 panels, 95+ CRI |
| Backlight | 93+ CRI |
| Laserpointers | Yes, 2 linear integrated lasers 15mW each class 2M |
| Output 2D image format | JPG, PNG, TIFF, BMP |
| Output 360° image | HTML5 |
| Output video file format | GIF, MOV, MP4, directly uploadable to YouTube |
| Predefined colour templates | 5 generic profiles |
| Max. image resolution | Unlimited |
| Compatible cameras | CANON DSLR with LiveView <More information> |
| Multiple camera control | Yes, up till 5 cameras (Canon only) |
| Compatible operating systems | MAC OS: 10.14, 10.15, Big Sur; WINDOWS: 8, 10 |
| External Power Supply | 110-230V AC |
| SUN hosting package | Included 3 months trial version |
| Camera connection | USB Type A |
| PC connection | USB Type B |