Alphastudio XXL Pro, an all-round studio!
The Alphastudio XXL Pro has been specially developed to enable you to immediately isolate photographs of larger products. This all-in-one photo studio with unique automatic background removal can photograph products of 200 cm high and 100 cm wide. The load on the turntable is a maximum of 100 kg. The Alphastudio XXL Pro allows both static 2D photos, moving 360º presentations and videos, to be uploaded directly to YouTube. Products such as clothes on mannequins, skis, large household appliances, suitcases and electronics can be photographed in the Alphastudio XXL Pro.
Products in the Alphastudio XXL Pro are photographed instantly isolated. This is done by means of the Alpha channel technology, post processing is no longer necessary. The powerful infinitely adjustable and movable LED lighting panels ensure that you can quickly create professional images for your webshop or other application. The system is delivered including Orbitvu Station software. It controls both the studio and the camera and works smoothly on Windows or Mac.
Productvideo
Bekijk onderstaande korte video over de Alphastudio XXL Pro. In deze video worden alle functionaliteiten van deze machine uitgelegd.
Alle Alphastudio XXL modellen beschikken over de bekroonde Orbitvu 360° technologie. De 360˚ presentaties zijn perfect voor online winkels en compatibel met PC, tablet of mobiel apparaat. Ook direct te gebruiken voor social media.
Het systeem kan worden geleverd met meerdere camera's hierdoor kunt u bijvoorbeeld ook van boven naar beneden fotograferen.
Hele paspoppen, maar ook schoenen kunnen gemakkelijk en snel gefotografeerd worden. De schoen plaatst u op de meegeleverde Magic Table, deze tafel wordt automatisch verwijderd door de software. Nabewerking is niet meer nodig. De gemaakte productfoto's worden automatisch gecropt en gecentreerd zodat ze direct online of offline gebruikt kunnen worden.
Voordelen van de Alphastudio XXL Pro
Verwijdert direct de achtergrond van uw opname
Nabewerking is niet nodig
Elk detail wordt perfect belicht vanwege de krachtige LED panelen
De speciale software sluit perfect aan bij het systeem
Van voorraad naar webshop binnen 2 minuten
Tot 20 keer sneller dan handmatige fotografie
Goede, unieke productfoto's zorgen voor meer conversies en minder retouren
Gemakkelijk te bedienen
Multifunctionele studio voor foto en video
Download brochure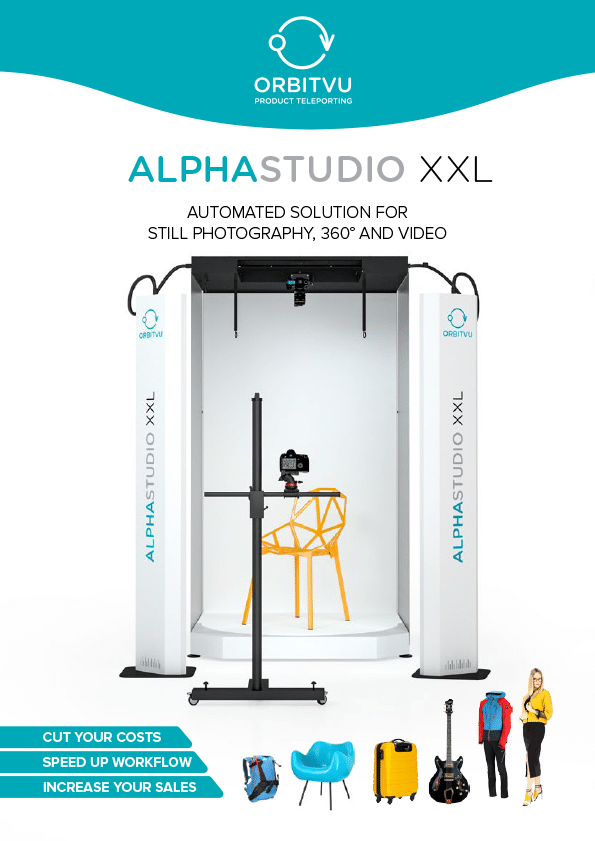 Specifications
| | |
| --- | --- |
| Diameter Turntable | 125 cm |
| Frontlight | 2 x 95+ CRI |
| Backlight | 93+ CRI |
| Toplight | 2 x 95+ CRI |
| External dimensions | 200 x 139 x 273 cm (L x W x H) |
| Weight | 340 kg |
| Dimensions lightning on front | 37 x 212 cm (W x H) |
| Max. size of photographed object | 120 x 70 x 190 cm (L x W x H) |
| Max weight | 100 kg |
| Laserpointers | Standaard 2 linear integrated lasers |
| External Power Supply | 110-230V AC |
| Camera connection | USB Type A |
| Multiple camera control | Yes, up till 5 cameras (Canon only) |
| PC connection | USB Type B |
| Output still image | JPEG, PNG, TIFF, BMP |
| 360° image output extensions | HTML5, JPEG and PNG |
| Output video extensions | GIF, MOVIE, MP4, directly uploadable to YouTube |
| | |