Fashionstudio
We are proud to introduce the all new Orbitvu Fashionstudio!
The Fashionstudio is an innovative all-in one photo studio for fashion lifestyle photography and video. The system is designed to create perfect photo and video content for webshop, social or print. All easily, beautifully and quickly.
A large size photo studio where direct lighting is used, you can immediately see the changes on your screen when a setting is adjusted. You can see the result instant.
Different colors of background are possible by changing the background paper.
Video
View the short video below about the Fashionstudio. In this video a number of functionalities of this system are shown.
The camera and the studio are controlled by the Orbitvu Station software. All functions are integrated into the software.
With the Station software you control the lighting panels, but you can also control the camera and the zoom lens remotely using the Motorized zoom function.
Pre set templates make working with the Fashionstudio fast and easy. These templates are available for photo and video. This way you can quickly create content. There is no difference in settings between recordings made in February or July.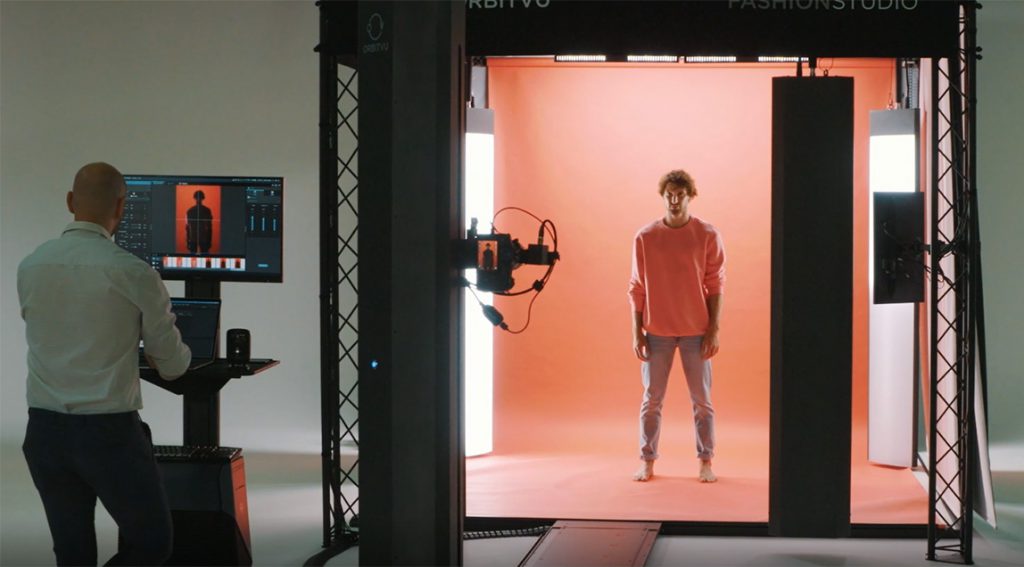 The model can easily walk to the laser marked area in the studio. There is also a screen and speaker build in to the studio. The model can look directly to the intalled screen and see the used pose and count down timer.
The Fashionstudio is also able to use Orbitvu's unique automatic  background removal like the Alphashot and Alphastudio systems. By using the Alphachannel technique the Fashionstudio has a background removal. No post processing is needed.
Advantages of the Fashionstudio
Multifunctional studio for photo and video
Every detail is perfectly illuminated due to the powerful LED panels
The special software fits perfectly with the system
Standardize photography and video by using templates
Camera settings and controls for photo and video by the software
Create and export unique content at lightning speed
Good, unique product photos lead to more conversions and fewer returns
Easy to operate
Directly link to your Youtube and Social platforms
Download brochure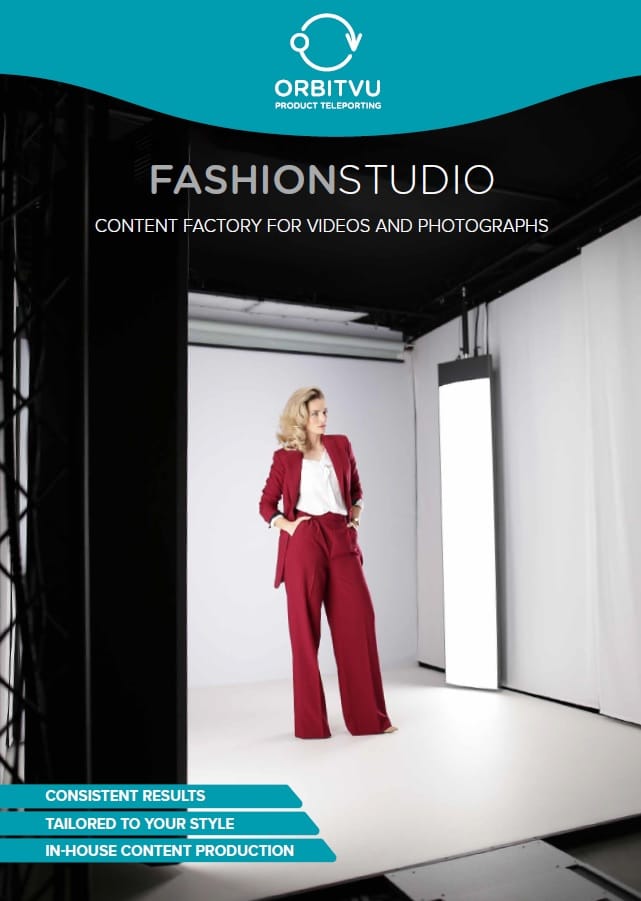 Specifications
| | |
| --- | --- |
| External dimensions [WxHxL] | 300 x 290 x 380 CM |
| Required space incl. Camera position [WxHxL] | 450 x 300 x 550 CM |
| Max. size of photographed object [WxH] | 250 x 240 CM |
| Max. load | 150 KG |
| Laserpointers | Yes, standard integrated |
| Output 2D image format | JPG, PNG, TIFF, BMP, RAW |
| Output video file format | GIF, MOVIE, MP4, directly uploadable to YouTube |
| Max. image resolution | Unlimited |
| Compatible cameras | CANON EOS R |
| Compatible operating systems | WINDOWS: 10 |
| External Power Supply | 3 phase 100 - 230 V AC |
| Max. power consumption | 4800 W |