Maxi TABLE
Wilt u binnen seconden foto's geschikt voor uw website of print? Met de Maxi TABLE fotografeert u automatisch packshots, 3D foto's en 360 graden productfotografie op het handige draaiplateau. Kies tussen een doorsnede van 120 of 180 cm voor jouw producten. Beide opties hebben een draagvermogen tot 250 kg.
Met de Maxi TABLE maakt u snel en eenvoudig productfoto's van grote producten zoals fietsen, mensen, koffers, groot speelgoed, stoelen en kleine kasten. Ook huishoudelijke apparatuur en elektronica passen makkelijk op de Maxi TABLE.
De Maxi Table komt met onze Orbitvu Editor software die de tafel en de camera aanstuurt. Ook maakt de software volautomatisch 360 graden productpresentaties.
Voordelen van een Maxi TABLE
Draaibaar plateau
Kies een doorsnede van 120 of 180 cm
Volautomatische 360 graden productpresentaties
Geen nabewerking meer nodig
Foto's die direct uploadbaar zijn voor online en offline
Ideaal voor grote producten zoals fietsen, stoelen en koffers
Goede, unieke productfoto's zorgen voor meer conversies en minder retouren
Eenvoudig te bedienen
Snelle Return on Investment
Download brochure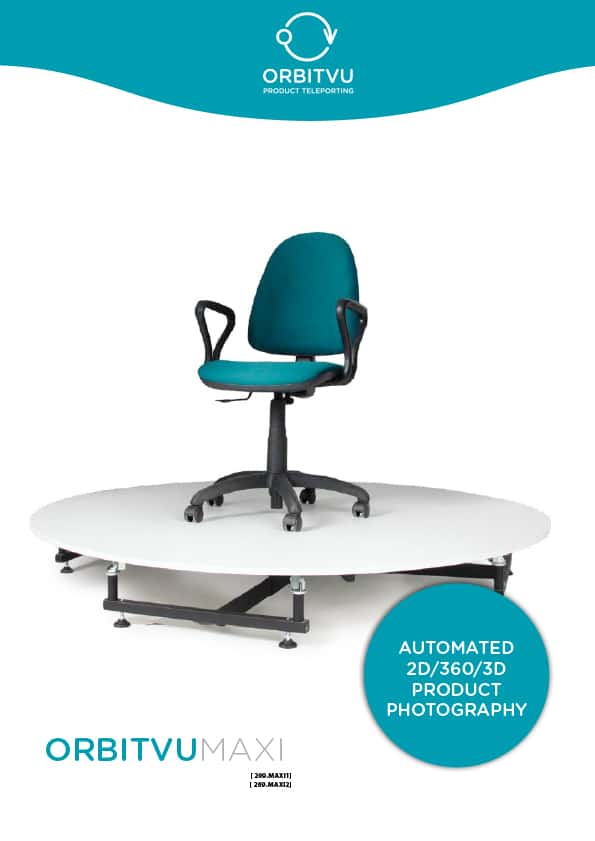 Specifications
| | |
| --- | --- |
| Table diameter | 120 or 180 cm |
| Max. central load | 250 kg |
| Max. load for hanging configuration | 61 kg |
| 360° image output formats | Yes |
| Export 2D / 360 | JPG, PNG |
| Trigger of camera shutter | 2.5 mm stereo |
| Compatible cameras | CANON DSLR with LiveView More information |
| Max. image resolution | Unlimited |
| Compatible operating systems | Mac OSX: 10.6, 10.7, 10.8; WINDOWS 7, 8 and others |
| Own product profiles | Yes |
| Positioning accuracy | better than 3° |
| Dimensions (WxDxH) | 180 cm x 180 cm x 22 cm |
| Operating temperature range | 10 - 40°C |
| External power supply | 110 - 230V AC |